There's been a lot of buzz recently about our favorite steamy reads getting movie deals – It seems Hollywood finally got the hint that turning Best Sellers into Box Office Hits isn't exclusive to YA Fiction – Scripts for several Romantic series are being passed around to film and television producers.
This got us thinking about our favorite series and which ones deserve their time on the silver screen…
One of the first series to come to mind was The Nightlife Series by Travis Luedke. This series is full of badass Vampires, blood, gore, action, and deliciously hot sex – PERFECT for the big screen, so we cornered Travis and asked him an important question: 
If The Nightlife Moscow was turned into a movie – how would you cast your characters?
So grab a bowl of popcorn and get comfortable as Travis Luedke puts faces to all the characters we've come to love (or love to hate). You're about to find out why we're completely enamored with this blood-soaked and sinfully sexy series!
The following is Travis Luedke's response, in his own words.
You can see all the cast members on Travis Luedke's Pinterest board!
Meet the wicked, strange, obnoxious and dead sexy characters of The Nightlife Moscow.
Vampires Aaron and Michelle have landed in Moscow, on the prowl. In the company of a misfit pack of mercenary werewolves and Urvashi, a fallen angel, the vampires are forced into the violent, decadent underworld of Russian mafia, drugs and blood slaves.
The first and last character you meet in the Nightlife Series is Aaron Pilan. Aaron has been with us from the beginning, and it could be said that this series is really his story.
Obnoxious bastard vampire, Aaron happens to be a decent guy… sometimes.
Though young and inexperienced, Aaron has survived numerous trials by fire, loved and lost, been widowed, shot and hunted by police in four nations. The Nightlife Series chronicles his dark, violent, erotic misadventures from New York to Vegas, Paris, London, and now Moscow.
Never fear ladies, Aaron's story is far from over. In fact, with shocking developments from Moscow, this may be the beginning of something new and delightfully macabre.
Next in the lineup is Michelle de Mornac. Michelle is a French femme fatale whose Parisian exploits against the German soldiers in WWII were often mistaken for French revolutionary assassinations. In her early Paris years, Michelle enjoyed dishing out messy, painful eviscerations – she hated German soldiers with a passion. These days she is a much calmer creature who prefers to work out her desires through sex, rather than violence. Once in a great while she cuts loose and returns to the old habits of shredding the entrails of her victims. When she hits that mood, its best to get out of town, or out of the country.
Michelle and Aaron's lives have been inextricably intertwined since the beginning, in New York. Through the gift of her blood, she brought him into the fold. In retrospect, it wasn't the wisest thing to do. She never counted on falling in love with Aaron, or the complicated mess he would make of their lives. Michelle is the other half of the Nightlife Series. Where Aaron goes, Michelle follows, even to Moscow in the dead of winter to hunt a vampire bajillionaire.
The third member of Aaron's family joined them in Paris, when Aaron unwittingly bound himself to an Apsara – a fallen angel named Urvashi. This immortal shapeshifter Aaron calls master prefers to wear a skinsuit of Kim Kardashian.
Urvashi the great and powerful has her telekinetic fingers draped all over the supernatural beasties of Europe. She's the behind the scenes puppet master, a self-appointed supernatural judge, jury, and executioner. A seducer and manipulator of men the world over, it pays to stay on Urvashi's good side. The fools who fail to learn this lesson find their heads suddenly detached from their bodies.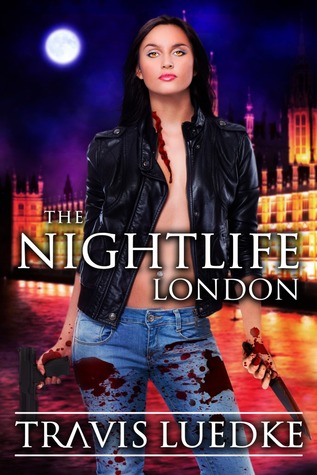 The late-comer to Aaron's highly dysfunctional family is Katya, a Russian werewolf ex-patriot living in Soho London. Katya loves to hate vampires – passionately. Katya is Aaron's biggest mistake and his primary source of grief – a werewolf bloodslave.
She needs him, always. Every minute of every hour, she needs Aaron's teeth in her neck. Her addiction to his bite has made both their lives near impossible. Aaron has his hands full keeping Michelle from treating Katya as the meaty center of a blood-sex sandwich.
Katya's sidekick and fellow pack member is Ivan. Hailing from Russia, with a history that reaches all the way back to Rasputin himself, Ivan is an old school werewolf. He runs the mercenary operations of the wolf pack and spends his leisure time swimming in vodka and giving Katya shitty advice on her love life.
We now introduce the Supreme Bastard himself, the man who unseated the Czar, toppled the royal family, and sent Mother Russia barreling into a blood-drenched Bolshevik Revolution: Dmitri the vampire bajillionaire.
Known for his deep, lasting relationships with Russian mafia, and his skill at making a buck at everyone's expense, Dmitri is the fucker you love to hate. Draped in illicit money and wielding tremendous power through Russian corruption, Dmitri runs his own army of ex-military grunts. His filthy empire of payoffs and dirty deals spans across all Eastern Europe, and so does his reach as he sends his soldiers hunting for the wolf pack. He killed off two pack members in a recent ambush, and now he's dying to finish the job.
Dmitri is joined by the victims he enslaved, four women who wished to God they had never seen his face or heard his name: Kristina, Svetlana, Natalya, and Oksana a.k.a. The Bloodslaves.
Kristina (far left brunette), mother, undercover spy, and bloodslave to Dmitri, the poor woman just can't get a break. Hers is a dark and painful path – her only salvation is her daughter Lana.
Svetlana (blonde), once a highly successful attorney at a Moscow firm, she was kidnapped and raped repeatedly until she agreed to serve Dmitri's needs and represent his sleazy corporate manipulations. She alone holds the key to running Dmitri's empire and unraveling his dirty secrets.
Natalya (topless brunette) works as a painted stripper, shaking her tiger-striped ass all over Moscow. An addict, alcoholic, whore, Natalya is a hot, wet mess looking for a cock to land on. Meeting Dmitri might have been the best thing that ever happened to her, or the worst.
Oksana (topless brunette #2) was the girl next door who happened to be in the wrong place at the wrong time when Dmitri noticed her. A submissive, quiet woman, Oksana survives in Dmitri's household by keeping her mouth shut and doing what she's told. She is the perfect bloodslave.
The last member of Dmitri's family is the girl Aaron Pilan never saw coming, but she manages to turn his life upside down and inside out:  Lana.
At only six years old, Lana's fate depends upon Aaron's promise to 'do the right thing.'
Unfortunately, Aaron isn't known for doing the right thing.
Grab this latest installment of The Nightlife Series and prepare to be immersed in a dark, wicked, sensual world of bloodslaves, sex, Russian technogrind, vampires, werewolves, and all the peanut butter and jelly sandwiches you can steal from Dmitri's kitchen.
About the Author
Website | Amazon Author Page | Personal Blog | Nightlife Series Blog | Facebook
Nightlife Series Facebook Page | Author Facebook Page | Goodreads | G+ | Twitter | Wattpad
Travis Luedke is a husband, father, and author of Urban Fantasy Thriller, Paranormal Romance, Contemporary Fantasy, Young Adult Fiction, and Sci-fi. He is currently catching a 3rd degree sunburn in San Antonio, Texas, and loving every minute of it.
As the author of the Nightlife Series novels, Travis lives very vicariously through his writings. He invites you to enjoy his macabre flights of fancy, but be warned: The Nightlife Series is violent, sexy, and occasionally violently sexy.
Books in The Nightlife Universe: