Still

by

Alessandra Torre




–


Series:

Unknown

(See Below)
Source:

Personal Library


My rating:

4 of 5 stars

My feet hurt. Four inches of a-size-too-small shoes will do that to a girl. Especially a girl who is used to sensible flats, paired with nylons and JC Penny skirt suits. But your best friend only gets married once, and when she is paying for an all-expense paid bachelorette party to the Bahamas, the sane thing to do is hop on that plane, put on your sexiest pair of strappies, sip on penis-shaped straws, and dance your feet off.

I wasn't looking for a man. Wasn't planning to do anything but hobble my swollen feet up to the room and collapse. Maybe splurge on minibar candy and a six dollar bottle of water. I may not have been looking, but when you run into a man like Brett Jacobs, you don't walk away. You wipe up your drool, remember your southern graces, and bat your eyelashes.

I may have forgotten my southern graces. They may have gotten lost in the pushmeupagainstthewall and takemehere action that occurred. In the clothesripping ohmygod action that followed. They may have, along with my sanity and common sense, left me with bruised lips, ripped panties, multiple orgasms, and blistered feet.

God bless cheap shoes, impulse decisions, and weak willpower.

What are the odds that a weekend hookup during your friend's Bachelorette weekend can turn into the real deal?

I don't need to think, to analyze. I threw reason and safety and good decisions out the window as soon as I walked through the door to his suite. I traded logic for a touch that I desperately crave…

Riley would much rather be spending a weekend on her front porch in Macon, Georgia than dragged to the Bahamas on a wild Bachelorette party for her friend Chelsea… But there she is.
Sensible, responsible, boring Riley in a tiny dress and fuck-me shoes…
After overindulging in food, drink, sun, and gambling, Riley has certainly met her "party girl" quota for the day. She hobbles her way back toward her hotel room on sore and blistered feet when she is saved by Tall Dark & Handsome who offers her a pair of fuzzy slippers.
I guess you could say he swept her off her feet…
After some sexy banter, he offers to walk her back to her hotel room. Ever the gentleman, the mysterious stranger says goodnight to Riley without pressing for more, and she is left reeling…
RILEY

Fuck him. I don't need a one-night stand anyway. My dusty vagina is perfectly happy with the extensive network of cobwebs it's spent years creating.
Somewhere, in the empty recesses of my mind, my subconscious tears to pieces the 'I love Brett' picture and moves on to more official business.

Yes, Riley is adorably awkward and undersexed while being level-headed and full of Southern Charm. I adored her…
BRETT

"…you will be mine. You will not return to life as you know it. You will not flirt with men around the water cooler at work. You will bend for me, spread for me, allow me to have every inch of your surface, all while screaming my name and shuddering into my heart. That is what I mean."

Brett is a man who doesn't fall into one-night stands, but he is helpless to the draw of this Southern Belle who has captured his attention…
I have a single complaint:
It was soooooooooo short…
I know that seems like a ridiculous thing to complain about while reading a collection of short stories… But there it is.
Alessandra Torre creates wonderfully complex characters and thrusts them into situations which keep you on the edge of your seat, but there were too few pages to convey that sort of feeling…
She indicates that this is the beginning of something wildly beautiful (and I believe that with all of my pervy little heart) but we're left without any dates for the continuation of this story.
I shall anxiously await more information…
I read this book as part of the Bend Anthology which features some of the most talented authors currently working in Modern Romance.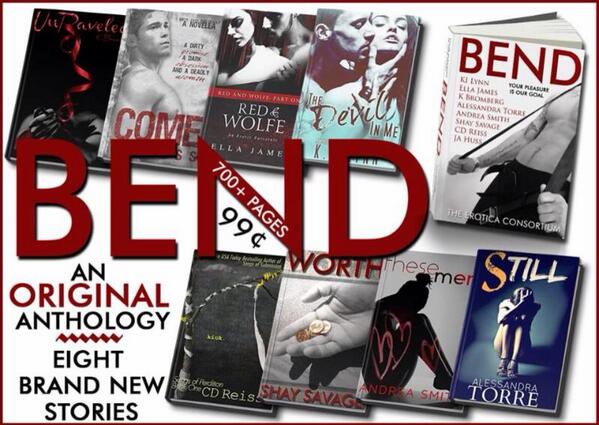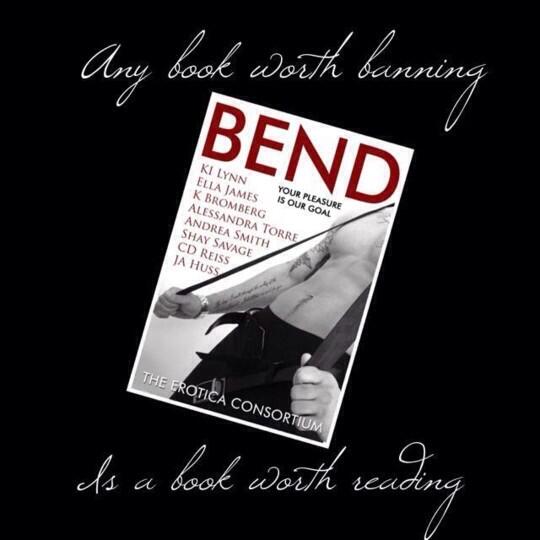 As of the date of this review, the Anthology has been banned by Amazon…