UnRaveled

by

K. Bromberg



Source:

Personal Library


My rating:

4 of 5 stars

UnRaveled is a darker erotic novella that is not suitable for people sensitive to non-consensual sex. This is a story about a stale marriage and the couple's unconvential attempt to find that spark again.

This novella was originally released as part of the Erotica Consortium's anthology – BEND.

One night.
One mistake.
Filled with fear.
Sated by pleasure.
Robbed of control.
Blindfolded and bound.
Shamed she liked it.
Doomed to want it.
Limits tested.
Boundaries pushed.
Desire awakened.
Inhibition unleashed.
An identity unraveled.
Lives changed forever.

An Erotic Abduction Fantasy for your steamy pleasure:

(BEWARE OF SPOILERS)
"I'm going to fuck you. By the time I'm done, you'll beg me to keep going. Then you'll beg me to stop. Regardless, you'll take what I give you – all of it – and you'll enjoy every single fucking moment of it. And Marco is going to watch. Understood?"

This short story has themes which many find objectionable – I'm not one of them, but I feel obligated to warn you of the contents:
– Abduction
– Non/Dubious Consent
– Forced Infidelity
– BDSM Sexual Situations
Left alone on what should have been the romantic Tenth Wedding Anniversary vacation of her dreams, Lil is mourning the loss of sexual satisfaction in her marriage.
While drinking in a bar, her eyes meet those of a mysterious stranger, and the consequences of that one glance have a ripple effect which will change her life forever.
Lil is drugged by this stranger and wakes blindfolded, chained to a bed, & naked…
The kinky details:
[
– Blindfolds
– Ball-Gags
– Shackles
– Chains
– Hot Wax
– Floggers
– Butt Plugs
– Forced Exhibitionism
– Double-Penetration
…The real story is that Lil must to grips with the fact that on some level she ENJOYS what is happening to her.
How can I find pleasure from this man who is holding me against my will?

I must admit that I do love a good abduction fantasy…
On a side note:
The saving grace for this story in the eyes and minds of the squeamish Erotica reader might be the twist at the end…
But is was an easy conclusion that Anderson had orchestrated the elaborate abduction/seduction, and that he was the mysterious voyeur present…
This story might not be for general audiences, but I certainly enjoyed it, and it set the tone for things to come…
I read this book as part of the Bend Anthology which features some of the most talented authors currently working in Modern Romance.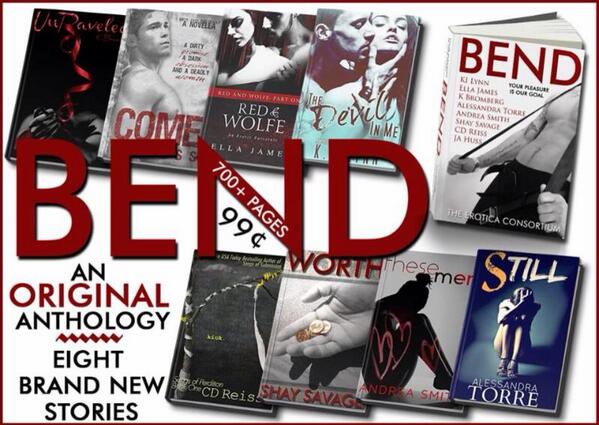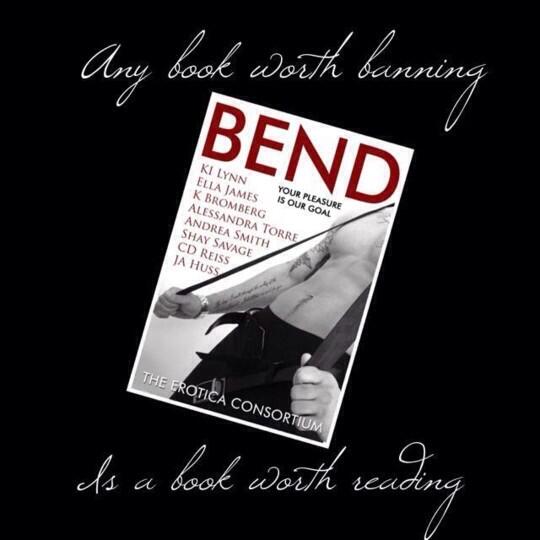 As of the date of this review, the book has been banned by Amazon…